Welcome to the Village of Pinckney Website!
Pinckney is located in Putnam Township in southern Livingston County. The area was first settled in 1827 by William Kirkland who moved from New York with his family, including wife Caroline who gained fame (and a bit of notoriety) with her writings about the area. With his brother-in-law, James Stansbury, Kirkland formed the William Kirkland Company, which organized the village. Kirkland named the community after his brother, Charles Pinckney Kirkland, a New York attorney. The village was platted in 1837 and incorporated as a village in 1883.
Sources for COVID-19 Information. We will get through this together!
Livingston County: https://www.livgov.com/health/ph/Pages/COVID19.aspx
Livingston County Dashboard:
https://livgov.maps.arcgis.com/apps/opsdashboard/ index.html#/b6dddfbad2ac4125812e301e5694e291
State of Michigan: https://www.michigan.gov/coronavirus/
2020-2021 BUDGET
2020-21 Budget – President Approved
See Construction and Maintenance Schedules on the "Projects in the Village" page in the menu to the left. 
Link to the Planning Commission and DDA Meetings for Monday, August 3, 2020:
+1 947-207-1274   United States, Troy (Toll)
Conference ID: 458 238 277#
Extended due date for Utility Billing
The Utility Billing due date for the second quarter (April 1, 2020 – June 30, 2020) has been extended from the August 6, 2020 date.
The due date for payment will now be August 20, 2020.  
COVID-19 Response — Village Hall Activities Limited or Suspended
Due to the governor's stay-at-home order, services at Village Hall are limited. Most business will be done via phone or email. Contact information and email links for staff are in the column to the right.
The Police Department is working 24/7 as usual. Leave a message at the office to contact them, or call 911 for emergencies.
DPW will be working daily but some projects are postponed. Leave a message at the office to contact them, or call 911 for emergencies.
PFAS in the news
PFAS has been in the news quite a bit lately but we want to reassure residents on the municipal water system that the village has tested the water system with MDEQ and the results show "the concentrations of PFOS and PFOA in these samples are well below the USEPA LHA of
70 ppt and are not expected to result in adverse health effects as long as the concentrations are shown to remain below the LHA over time. "
For complete results see the water page on the left navigation bar.
Village named a Redevelopment Ready Community
Reposted from WHMI radio:
Village of Pinckney Recognized As "Redevelopment Ready"
May 15, 2018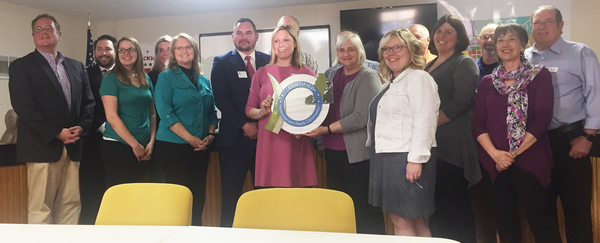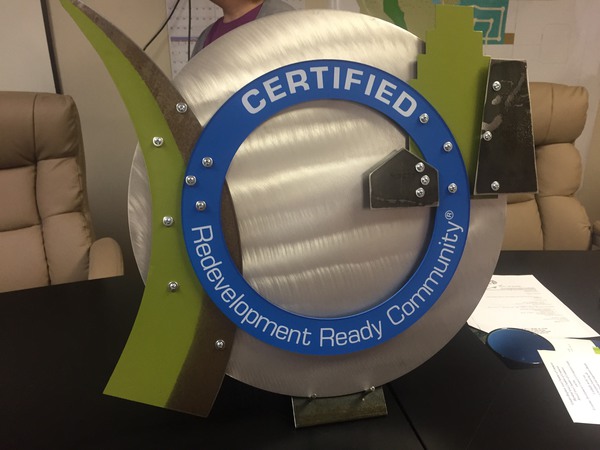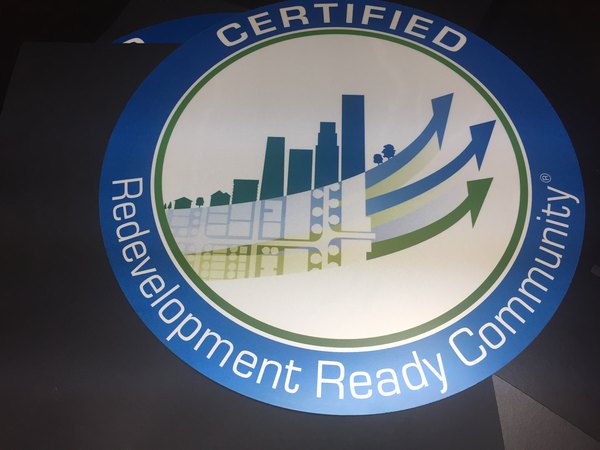 The Village of Pinckney and its officials were recognized for a willingness to change for the better that led to the municipality's certification as a "Redevelopment Ready Community".
Representatives from the Michigan Economic Development Corporation (MEDC) attended the Village's Board of Trustees meeting Monday to present officials with an award that acknowledged Pinckney as the 19th community in the state to become Redevelopment Ready. The MEDC program assists municipalities in establishing a foundation for redevelopment and investment to occur in their region.
MEDC's Senior Vice President of Community Development, Katharine Czarnecki, says RRC certification is a seal of approval that makes sure a community's planning is in line with their future goals for business investment, talent attraction and growth. The MEDC honors the accolade by offering benefits like technical assistance or funding opportunities for said redevelopment.
Czarnecki noted the overall leadership among village officials in terms of being willing to make changes to local ordinances and processes in hopes of better preparing Pinckney for economic and developmental growth. Czarnecki says the achievement is a testament that small communities too can shape their future.
In addition to receiving the RRC award, which is handmade by a crafter from Lansing to promote small businesses, village officials received signs to place throughout the municipality displaying the certification. Village President Linda Lavey says though the process to become certified was long, it was educational and helped planners establish regional goals and a direction. Lavey says part of the direction that's been established is to focus on vacant areas throughout the small village that were affected by the recession. Lavey tells WHMI there is space that is "truly redevelopment ready", like old buildings or open land, and that officials are willing to hear ideas for transformation.
Pinckney officials first began moving towards certification in 2014 by applying for the program. They were denied due to an acceptance cap, but reapplied and was accepted in 2016. (DK)
Coal Tar Ordinance – Black Top Sealant
In October 2017, Village Council passed an ordinance (§ 132.197  COAL TAR ORDINANCE) prohibiting the sale, distribution, or application of driveway and parking lot sealant products containing coal tar, identified as having greater than 0.1% Polycyclic Aromatic Hydrocarbons (PAHs).
All property owners should therefore be aware of this prohibition, which can carry a fine of up to $500.00.
In addition, businesses providing asphalt sealing services are now required to apply for a permit. The permit is free to file and is available here. If your company has signed a pledge for the PAH Reduction Project, please also provide a copy of that.  REMINDER:  THIS PERMIT IS FILED ANNUALLY AND THE VILLAGE IS CURRENTLY ACCEPTING APPLICATIONS FOR 2020.
For a list of names this product goes by, review the list found at this link.
Currently, the Village has approved these vendors for 2020:
Alan's Asphalt Maintenance, LLC
D&H Asphalt Co.
A1 Asphalt Maintenance
Action Asphalt LLC
Anthony's Asphalt LLC
***Property owners are now required to have a Land Use Permit Waiver before having their driveways sealed.  The Waiver can be found here and does not cost anything:  Land Use Permit Waiver  The waiver can be emailed to the Zoning Administrator at zoning@villageofpinckney.org or faxed to 734-878-9749
Village partners with Simple Recycling
NOTE:  Simple Recycling is picked up on the same day as your regular recycling but it is a different truck that will pick it up.  Their pick-up window of time is from 7:30 am to 5:00 pm.
The village is now partnering with Simple Recycling to dramatically reduce the constant stream of materials into our nations land fills.  Beginning, February 7th, you will be able to recycle clothing and housewares right along with your regular recycling.  Simple Recycling will be mailing residents information on the program along with orange recycling bags.  Fill the bags with items that are not fit for resale and they will grade and sort materials, locally and/or regionally, based on quality and condition. The top quality materials will be resold to local thrift outlets, mid grade is exported to international markets and "unusable" items are processed for raw materials.
Additional bags can be ordered from Simple Recycling or picked up at Village Hall.
There is no cost to the village or its residents to participate.
Learn more at simplerecycling.com
For Sale- For Commercial Development!
The parcel located near the corner of Main Street and Marion Street is a prime retail location.  It is .31 acres in the center of downtown shopping district and is for sale by the Downtown Development Authority.
The DDA is looking for interested developers to purchase and develop this space.
The community has spoken and they want to see more restaurants, retail and upper-level urban living space!
Click here to download a packet of information including a survey, property description, a spec building design as well as designs to upgrade Marion street and build a municipal parking lot on the adjacent parcel to the south.
Upcoming Meetings
DDA Agenda: DDA Agenda for August 3, 2020, 7pm
DDA Draft Meeting Minutes: July 8, 2020 DRAFT DDA Minutes
DDA Informational Meetings.  Per updated PA57, the DDA is required to hold at least 2 informational meetings.  Those meetings will be held on Wednesday, September 9, 2020 at 6:45pm and on Monday, November 9, 2020 at 7:00pm. 
DDA Informational Meeting Minutes:  September 11, 2019 DDA Info Meeting Draft Minutes
Planning Commission Agenda: Planning Commission Agenda for August 3, 2020, 7pm
NOTICE OF PUBLIC HEARING FOR AUGUST 3, 2020
Planning Commission Draft Minutes: July 8, 2020 DRAFT Planning Commission Minutes  
Village Council Meeting scheduled for August 10, 2020 vc-agenda-08102020
Village Council Meeting Minutes dated July 27, 2020 vc-min-07272020
Packet of information for Special Use Permit for Residential Open Space Development – Lakeland Knoll
Zoning Board of Appeals:  
Zoning Board of Appeals Agenda: 
Committee Meetings
Budget Meeting Schedule  2019_2020 Budget Meeting Calendar
Police Committee Meeting
Streets & Sidewalk Meeting streetscom-min-03152017
Summit Meeting Minutes: Pinckney Summit 5 14 2014
NOTICES
#PinckneyPride
We all have #pinckneypride and we always want to hear what makes you proud to be a member of the Pinckney Community.  Please share your thoughts with us on Facebook and Twitter and don't forget to use the hashtag.
One of the many things we are proud of is Pinckney Community Schools.  The schools system has many award winning programs, devoted teachers and administrators and much more!  Check out what the school district has to offer in this new brochure below.
Positively Pinckney brochure January 2015
Gateway to Play Merchandise
The Downtown Development Authority launched the new image for the Village in 2012.  Reaction has been great!
Merchandise bearing the new logo is available for sale at Village Hall.
  Great hats $12
T-shirts – Women's T $10 (2XL for $12)
Aluminum Water Bottles – Made in America $8
Merchandise can be purchased during regular business hours, Monday – Thursday    8 AM – 4PM.  Cash or check only.
Interested in supporting the downtown area and its events?  Consider joining the Friends  of the Village.  Click on the word Friends to download the brochure with details.
Let us know what you think about the new logo.  Email us at info@villageofpinckney.org